A practical, safe and recognizable passage on your premises. By using gates, you can create an emergency exit, supplier access or a crossing point during sports events in no time at all. Gates take up no extra space and the various gates from Hela NV can easily be placed between each temporary fence.
Sliding Gate Construction Set
Applicable in the existing fence line. This gate construction is practical, easy applicable and safe.
| | |
| --- | --- |
| Length | 3593 mm |
| Height | 2135 mm |
| Weight | 15 kg |
Request a quote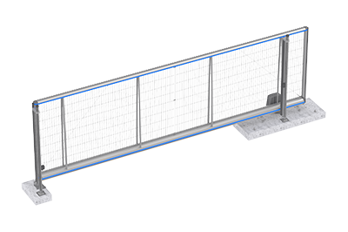 Sliding gate 7 m
The gate is operated electrically or manualy. When electrically even with remote operation. The gate combines optimum flexibility with safety. 
| | |
| --- | --- |
| Length | 8640 mm |
| Height | 2000 mm |
| Mesh width | 50 x 200 mm |
| Weight | 783 kg |
Request a quote